Home
»
Our Products
» Soil Testing Instruments
Soil Testing Instruments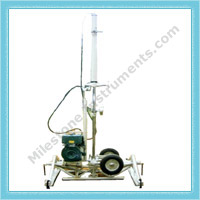 | | |
| --- | --- |
| Penetration Cone, steel, 60° angle, 10 cm2 base area with friction jacket | One |
| Mantle Tube, non-uniform, 36 mm OD at the two ends and reduced dia in between with sounding rod, working length 1 m | Fifteen |
| Load Measuring Head, with Automatic Cut-off Valve, Pressure Gauges and Oil Can | One |
| Pressure Gauge, 0-160 kg/cm2 | One |
| Pressure Gauge, 0-60 kg/cm2 | One |
| Screw Anchor, with Bolt | Four |
| Anchor Driving Handle | One |
| T-Rod | One |
| Spanner | One |
Penetration Cone, steel, 60° cone angle, 10 cm2 base area, with Friction Jacket
One
Mantle Tube, EN-8, 36 mm uniform OD with Sounding Rod of EN-16, length 1 m
Thirty
Load Measuring Head, with Automatic Cut-off Valve, Pressure Gauges and Oil Can
One
Pressure Gauge, 0-600 x 5 kg/cm2
One
Pressure Gauge, 0-100 x 1 kg/cm2
One
Trusses
Two
Screw Anchors (45 cm)
Six
Screw Anchors (30 cm)
Six
Screw Anchors (20 cm)
Six
Screw Anchor Rods, with Cone
Six
Driving handle, for Screw Anchors
One
Extension Pipe, for Handle
Four
Clamping Screw, with Nuts
Six
Extractor Tube, with Connector
One
Tool Box
One
Tarpaulin Cover
Penetration Cone, steel, 60° cone angle, 10 cm2 base area, with Friction Jacket
One
Mantle Tube, EN-8, 36 mm uniform OD with Sounding Rod of EN-16, length 1 m
Thirty
Load Measuring Head, with Automatic Cut-off Valve, Pressure Gauges and Oil Can
One
Pressure Gauge, 0-600 x 5 kg/cm2
One
Pressure Gauge, 0-150 x 1 kg/cm2
One
Trusses
Two
Screw Anchors (45 cm)
Six
Screw Anchors (30 cm)
Six
Screw Anchors (20 cm)
Six
Screw Anchor Rods, with Cone
Six
Driving handle, for Screw Anchors
One
Extension Pipe, for Handle
Four
Clamping Screw, with Nuts
Six
Extractor Tube, with Connector
One
Tool Box
One
Tarpaulin Cover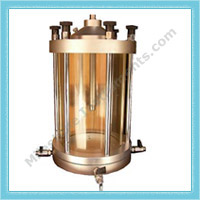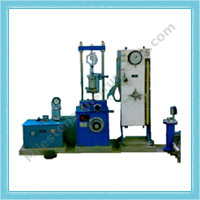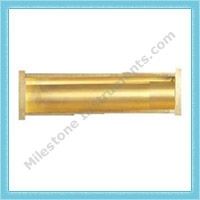 This test covers the determination of linear shrinkage of soils and indicates the plastic properties of soils with a low clay content. The mould is 140 mm long x 12.5 mm radius.
It consists of clear transparent glass having uniform clarity through out the hydrometer which density scale is engraved. The scale range is 0.995 to 1.030 densities (gms/ml) at 27 degree centigrade.
Graduated glass cylinder made of borosilicate glass and 1000 ml capacity and dimension is 457 mm height and 60 mm dia.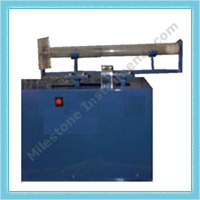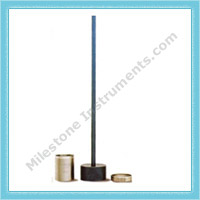 The front loading odometer test is used to determine the consolidation characteristics of soils of low permeability. Tests are carried out on specimens prepared from undisturbed samples. Data obtained from these tests, together with classification data and a knowledge of the soils loading history, enables estimates to be made of the behaviour of foundations under load
This instrument is used for preparing soil samples for various tests like Triaxial Test, Unconfined Compression Test etc. Soil lathe consist of a cabinet enclosing motor and gear system whichrotates a disk at 24 R.P.M. this disc adopts gripper plate of various size. An up right has an adjustable holder and takes upper gripper plates of different diameters. Arrangement is provided to control height and depth of cutting tool through a lead screw which has speeds 0.8mm/min. and 1.6mm/min. Supplied complete with gripper plate pairs for 38mm, 50mm, 75mm, and 100mm dia specimens.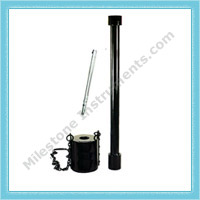 Standard Penetration Test